Herbalife SKIN - Purifying Mint Clay Mask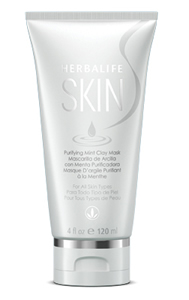 Pamper yourself with a spearmint-infused, clay-based mask. This rich, creamy mask has the absorbent and toning effects of bentonite clay to remove dirt and absorb excess oil.
Exclusively formulated with Vitamin B3, antioxidant Vitamins C and E and Aloe Vera, bentonite clay, rosemary leaf oil, and spearmint oil, this clay-based mask refines and revitalizes your skin's complexion.
Key Features
Clinically tested to improve the appearance of pores after just one use
A hint of spearmint and rosemary uplift your senses while leaving your skin softer and smoother
Prepares skin to better receive the benefits of our serums and Moisturisers
Paraben-free, Dermatologist tested (not tested on animals)
Product Usage
Gently massage onto damp skin in a circular motion (avoid the eye area) rinse with warm water, pat dry. Follow with toner, serum and moisturiser.
Use 1-3 times per week as needed.