Herbalife SKIN - Instant Reveal Berry Scrub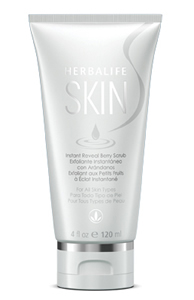 Suitable for all skin types, this antioxidant-rich scrub with berry seeds instantly exfoliates revealing smoother, more refined skin.
Antioxidant-rich scrub formulated with Vitamin B3, antioxidant Vitamins C and E and Aloe Vera, coconut-derived cleansing ingredients, exfoliating beads, and blueberry seeds, helps you achieve softer, smoother skin.
Key Features
Reveals healthy-looking skin
Fresh and fruity fragrance enlivens the senses
Paraben-free, Sulfate-free, Dermatologist tested (not tested on animals).
Product Usage
Gently massage onto damp skin in a circular motion (avoid the eye area) rinse with warm water, pat dry. Follow with toner, serum and moisturiser.
Use 1-3 times per week as needed.