Herbalife Start-Up Programme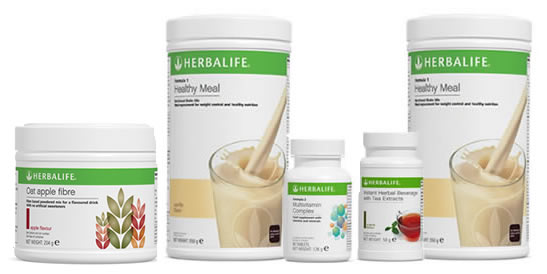 The Start-Up Programme is an effective solution for your weight loss goals and contains Herbalife's key weight loss products.
Have 1 healthy meal a day, 2 healthy shakes and 3 lots of high quality supplements. Enjoy the Instant Herbal Beverage 2-3 times a day to assist with hunger and as a cleansing antioxidant.
Each programme contains 1 x French Vanilla and 1 flavour of your choice. GF= Gluten Free Vg = Vegan
Included Extras
Easy-to-Follow Programme Instructions


Our Weight Loss Programme Guide gives easy step by step instructions as well as a comprehensive guide to healthy snacks.

Weight Loss Coaching (Optional)


We provide a weight loss consultancy email service for those that wish to make use of it. We ensure that all your questions regarding Herbalife product usage are answered and can guide you through the weight loss process.
Programme Components
2 x 560g Formula 1 Meal Replacement shakes (1 x Vanilla flavour, plus another flavour of your choice)


Formulated with an exclusive blend of selected proteins, vitamins, minerals and herbs. Low in calories, low in fat and a valuable source of fibre. Provides 18 amino acids to help the body function at its optimum level. Now contains Aminogen, a naturally derived ingredient that helps the body break down protein into free-form amino acids. Additional vitamins and minerals. Contains completely non-genetically modified ingredients. Enhanced fibre blend for a smoother, easier mixing shake.

1 x Formula 2 Vitamin & Mineral Complex (60 Tablets)


Vitamin & Mineral Complex (Men or Women) is scientifically developed to provide nutritional support for individuals who may not obtain an adequate amount of essential nutrients from the daily diet.

1 x Oat Apple Fibre Drink (204g)


A delicious and easy way to help increase your daily fibre intake. A unique sugar free blend, with no artificial sweeteners, of soluble and insoluble fibres. Oat apple fibre contains 6 natural fibre sources - apple, oat, maize, citrus, chicory and soya.

1 x 50g Instant Herbal Beverage (Original Flavour)


Able to be taken hot or cold - an effective antioxidant beverage.
Key Benefits
Scientifically formulated to provide the balanced nutrition found in a complete meal, this programme provides:
Soy protein
Healthy carbohydrates
A range of essential vitamins and minerals
Programme Usage
Replace 2 meals a day with a formula 1 shake and have one healthy meal per day. Take the Multivitamin Complexs 2X daily. Take the Oat Apple Fibre Drink once a day. Take the Instant Herbal Beverage 1-2 times daily. Have healthy snacks mid-morning and mid-afternoon to keep hunger pangs at bay and to keep your metabolism steady. Healthy snacks are specified in the program instructions we send our customers. They do include products from the protein solutions range.