Herbalife Thermo Complete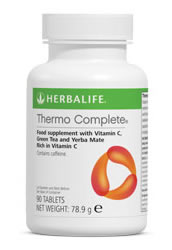 Herbalife Thermo Complete is an all-natural thermogenic (producing heat through metabolic stimulation) compound that can assist with weight loss. It also provides caffeine to give you a mental lift by helping to improve concentration and increase alertness.
Active Ingredients Listing
Green tea extract (Camellia sinensis)
Cacao extract (Theobroma cacao)
Yerba mate extract (Ilex paraguariensis)
Caffeine powder
Cinnamon bark powder (Cinnamomum zeylanicum)
Celery root powder (Apium graveolens)
Parsley leaf powder (Petroselinum crispum),
L-ascorbic acid
Alfalfa leaf powder (Medicago sativa)
Fennel seed powder (Foeniculum vulgare)
Liquorice root powder (Glycyrrhiza glabra)
Key Benefits
Provides naturally sourced caffeine from green tea, cocoa extracts and yerba mate.
Vitamin C contributes to the reduction of tiredness and fatigue.
Caffeine helps improve concentration and alertness.
Usage
Take one to two tablets twice daily, mid-morning and mid-afternoon.