Instant Herbal Beverage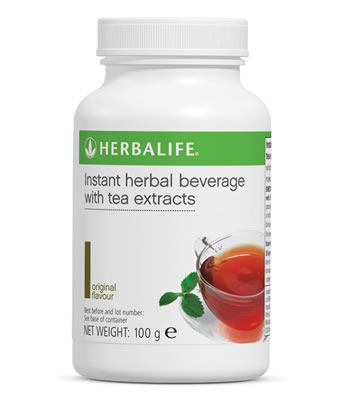 A low calorie refreshing drink infused with green and black tea which can be served either hot or cold. Just mix 1/4 to 1/2 teaspoon of the powder with hot or cold water and stir. It's now available in four flavours - original, lemon, raspberry & peach.
Key Product Benefits
Low calorie with approx 6 kcal per serving
A unique blend of orange pekoe - a traditional black tea, and green tea with extracts of malva flower, hibiscus flower and cardamom seed
Our green tea is water extracted to give you the full spectrum of compounds found in green tea
One cup of Instant Herbal Beverage contains 85mg caffeine to help increase alertness and improve concentration
Enjoy hot or cold for a refreshing drink
Ingredients Listing
Green Tea Extract (Camellia sinensis)


Well-researched and shown to be rich in polyphenol antioxidant nutrients; contributes to a general feeling of well-being. Green Tea contains caffeine, generally tea contains one third less caffeine per cup than coffee.

Orange Pekoe Extract


A medium-grade black tea consisting of many whole tea leaves composed purely of new flushes.

Cardamon Seed Extract


Comes from the ginger family of plants. Widely used to treat digestive disorders in traditional medicine.

Malva Sylvestris Extract


Also known as malllow, this gentle herb is often used in herbal teas to hydrate and soothe the digestive system.

Hibiscus Flower Powder


Studies have shown that drinking hibiscus tea can lower high blood pressure and reduce high cholesterol levels.

Lemon, Peach or Raspberry Flavouring


Gives a subtle hint of flavour to the beverage

Steviol Glycosides (Stevia)


A natural, non-chemical sweetener which adds a slight level of sweetness.

Natural Caffeine Powder


Assists in short term boosting of the metabolism.
Product Usage
Mix 1/2 teaspoon (approx 1.7g) with 250ml of hot or cold water. Instant Herbal Beverage is a refreshing drink enjoyed alone or with meals and contains only 6.2 calories per serving.