Herbalife PRO 20 Select

Water Mixable Protein Shake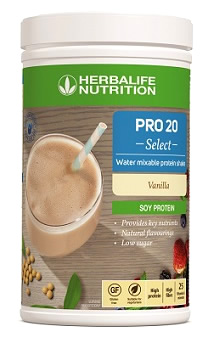 PRO 20 Select is a delicious water mixable, high protein shake that is low in sugar and provides your body with key nutrients it needs. Each serving contains 20 g of protein, 6 g of fibre, and delivers a third of your daily recommended intake of 24 vitamins and minerals.
Key Benefits
20 grams of protein per serving, contributing to the growth of muscle mass.
Approximately 146 kcal per serving.
High in fibre, 6 grams per serving.
30% of 24 vitamins and minerals per serving.
Vegetarian, gluten and dairy free and no artificial sweeteners or flavours.
PRO 20 Select is an ideal post-workout snack, as it helps to replenish your nutrient levels.
Usage
Enjoy PRO 20 Select at any time during the day. Gently shake the canister prior to each use as content may settle. Mix 3 scoops (42 g) of powder with 250 ml of water.