High Protein Iced Coffee

Latte Macchiato Flavour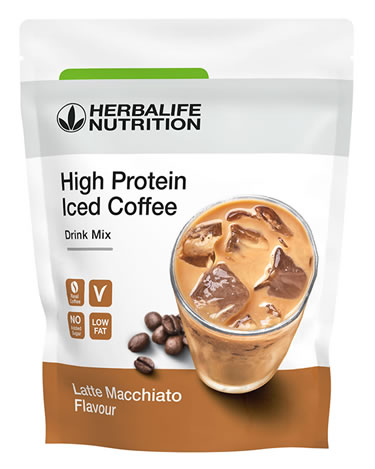 For all the coffee lovers, go-getters, dreamers with deadlines and explorers: this one's for you! It can be challenging to find a healthier iced coffee drink that's not loaded with sugar, fat and calories, but still tastes great. We took two ingredients we all know and love - protein and coffee - and blended them to create a drink that's deliciously refreshing! Whether you are on-the-go, or just need a caffeine boost, reach for a glass of refreshing High Protein Iced Coffee!
Key Benefits
100% Robusta espresso coffee beans
15g whey protein
Suitable for vegetarians
No added sugar
Only 80kcal
80mg caffeine
Real coffee beans for an authentic coffee taste
Protein contributes to the growth and maintenance of muscle mass
Protein contributes to the maintenance of normal bones
Low fat
Contains no colours or preservatives
High Protein Iced Coffee is a coffee drink mix that combines 100% Robusta espresso coffee beans with the benefits of 15g quality protein per serving
High Protein Iced Coffee is made without GM ingredients, contains no colours or preservatives, has no added sugar and is suitable for vegetarians
High Protein Iced Coffee is made using a naturally sourced sweetener (Stevia)
Usage
High Protein Iced Coffee can be enjoyed at home or on-the-go as a treat when you need it most. It's perfect as a mid-morning or mid-afternoon drink.
Fill your shaker cup with 250ml cold water. Add 1 scoop of High Protein Iced Coffee. Shake and pour over ice. If you don't have a shaker cup, blend on low speed for 5 seconds.