RoseGuard Antioxidant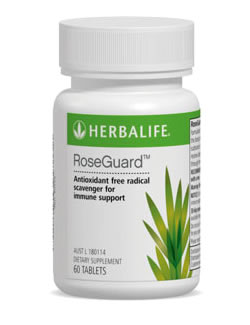 The importance of antioxidants for maintaining good health cannot be overstated. Unfortunately, few people get enough antioxidant-rich vegetables and fruits in their daily diet. RoseGuard includes the antioxidant properties of rosemary, cruciferous vegetables and other herbs, to help ensure an adequate intake of these vital nutrients.
The body is exposed daily to pollution and other environmental toxins. RoseGuard supports the body's natural defense against environmental toxins, while providing antioxidant support throughout the day.
Key Product Benefits
Vitamin A, C and E added - daily dosage of 2 tablets provides 100% RDA of vitamins A and C, and 73% of vitamin E.
Rosemary extract - improved quality due to change in extraction process.
Product Usage
Take one tablet in the morning and one in the afternoon, preferably with a meal.