HERBALIFE24 Achieve Protein Bars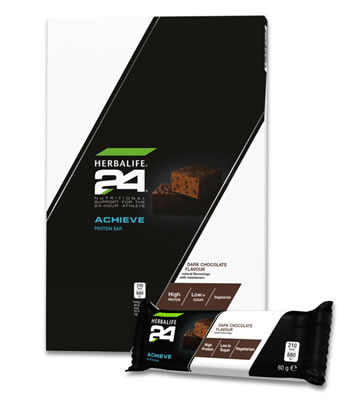 Whether you're just starting your fitness journey, a regular gym-goer or a performance athlete, you need sports nutrition that supports you through every moment. That's why we created H24 Achieve Protein Bars.
They are a convenient post-workout treat that contains 21 grams of protein per bar. Each protein bar is available in a decadent Dark Chocolate flavour, with no artificial flavours, colours and are suitable for vegetarians!
We want to provide you with nutrition that helps you to achieve your goals, no matter how great or small. Consume H24 Achieve Protein Bars once a day, in between meals or after your workout.
Key Benefits
21 g of protein per bar
Low in sugar
Informed Sports certified
No artificial colours or flavours
Rich dark chocolate flavour
Suitable for vegetarians
Product Usage
Consume once a day in between meals or after your workout. Enjoy this product within a balanced and varied diet, as part of a healthy, active lifestyle.