LiftOff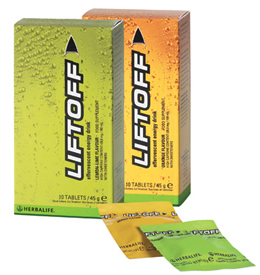 When you're feeling tired, re-energise with Liftoff, a caffeinated low calorie, effervescent energy drink. Caffeine helps to increase alertness and improve concentration.
Liftoff is an exclusive blend of L-taurine, guarana, caffeine, Panax ginseng and Ginkgo biloba. Convenient, pocket-size tablet provides a mind-body boost anytime, anywhere.
Key Benefits
10 kcal per serving, a great replacement for fizzy sugary drinks.
100% of your Vitamin C RDA to help alleviate tiredness and fatigue.
100% of your B vitamins (B1, B2, B3, B5, B6, Biotin) RDA for normal energy metabolism.
Contains natural caffeine from Guarana and caffeine powder.
Every serving provides 75 mg of caffeine, to help increase alertness and improve concentration.
Product Usage
Drop one tablet into 250ml water for instant 'on the move' energy – anytime, anywhere!