Herbalife Formula 2 Vitamin & Mineral Complex

(Now available in separate formulations for men & women)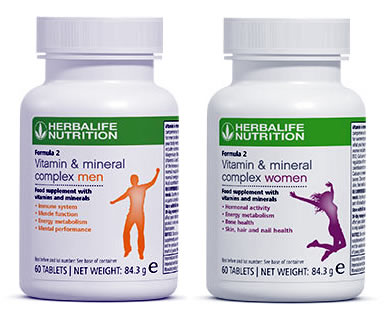 Formula 2 Vitamin & Mineral Complex, your daily multivitamin with 24 vitamins and minerals to help you reach your RDA.
Product Label Information
Key Benefits
Individual products tailored to the nutritional needs of men and women.
Provides the optimal amount of key vitamins and minerals that your body needs.
Delivers 71 individual EU authorised claims.
Developed by experts in nutrition and backed by proven science.
Formulated to work in conjunction with your favourite formula 1 shake.
Contains vitamin A & C which contribute to the normal function of the immune system.
Contains magnesium which contributes to normal muscle function.
Contains riboflavin which contributes to normal energy yielding metabolism.
Contains pantothenic acid which contributes to normal mental performance.
Product Usage
It's important to include varied and balanced meals as part of your daily diet. However, when your lifestyle is hectic and your finding it hard to get the balance right, support your body with F2 Multivitamin Complex to provide the essential vitamins and minerals your body needs.
Take one tablet twice a day with meals.
May be includes as part of a Herbalife weight loss program..