Herbalife Formula 1 Savoury Meal

Mushroom & Herb Flavour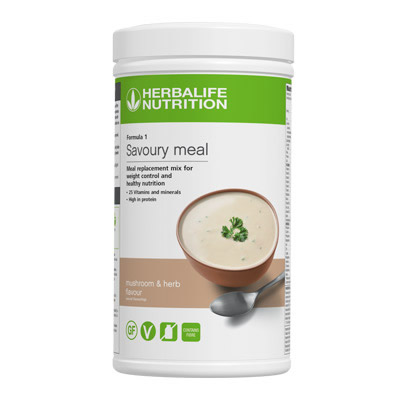 Are you stuck for evening meal ideas? In need of a lunchtime saviour? If so, then Formula 1 Savoury meal could be exactly what you are looking for.
Treat yourself to the rich, smooth and creamy taste of Mushroom & Herb flavour. It contains high-quality protein, key vitamins and minerals, fibre, the sumptuous taste of mushrooms, sweet onion, refreshing herb and garlic with no added sugar.

Formula 1 Savoury meal Mushroom & Herb flavour is the ideal nutritional lunch or evening meal to eat while staying on track with your healthy and active lifestyle - wherever you are.

Enjoy all the benefits of Formula 1 in a savoury flavour that is healthy, warming and delicious.
Key Product Benefits
High in protein
25 vitamins and minerals
Vegan ingredients
No added sugar
Natural flavours
No artificial colours or sweeteners
Gluten-free
Usage
Gently shake the canister before using, as its contents may have settled. Warm 250 ml of semi-skimmed milk in a pan or a microwave for 80 seconds. Add 2 scoops (26 g) of Formula 1 Savoury Meal, blend (or shake) carefully until smooth and enjoy.
For a vegan and dairy free option, add 2 scoops (26 g) of powder to 250 ml of warm, fortified soya beverage. Blend (or shake) carefully until smooth and enjoy.
Use this product within a balanced and varied diet, as part of a healthy, active lifestyle.