Herbalife 24 Super Shaker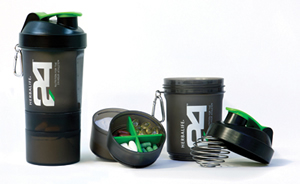 Fully branded with the Herbalife24 logo! The Super Shaker is a brand new way to mix your Herbalife shakes on the go.
Key Benefits
Innovative whisk ball - Drop in the whisk ball before shaking your way to a smooth, creamy shake! 2
Additional compartments - Just screw the extra compartments onto the shaker bottle to keep all your Herbalife needs in one place!
Use one compartment with the separator, to organize and carry your tablets on the go.
Use the other compartment to store powder for your next shake!