NiteWorks ® Powder Mix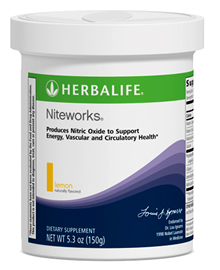 Niteworks is a night-time food supplement with L-Argine, L-Citruline and Vitamins C & E and Folic Acid.
Key Benefits
Niteworks contains the amino acids L-Arginine and L-Citruline.
High in folic acid.
High in vitamins C and E to protect the cells from oxidative stress.
With lemon balm.
Product Usage
Mix Two scoops (two teaspoons or about 10 grams) with cold or sparkling water or juice. Drink at night or before bedtime.